Read Time:
3 Minute, 7 Second
Van Dhan Vikas Yojana: The Success Story of Andhra Pradesh
By PIB Delhi
TRIFED, under the aegis of the Ministry of Tribal Affairs has implemented several initiatives to help improve the livelihoods of the tribal population. More so, over the past year, to help the beleaguered tribals who had been severely impacted due to the pandemic. Among the various programmes, which have emerged as a panacea to the tribal population are the Van Dhan tribal start-ups and the Mechanism for Marketing of Minor Forest Produce (MFP) Through Minimum Support Price (MSP) & Development of Value Chain for MFP' Scheme that provides MSP to gatherers of forest produces and introducing value addition and marketing through tribal groups and clusters. These programmes have widespread acceptance across the country. In particular, theVanDhantribal start-ups, especially have been very successful. And the state of Andhra Pradesh is a fine example of the way the Van DhanYojana has benefitted tribals there.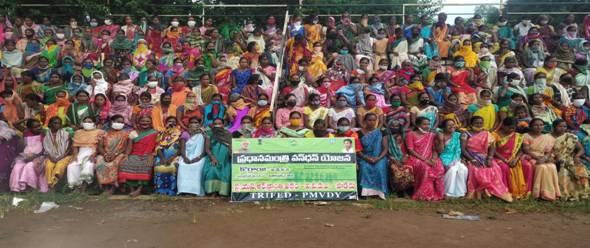 Andhra Pradesh has a total tribal population of 59,18,073spread over 13 districts. Of these 13 districts, 7 districts will be covered by VDVKs. A total of 263 VDVKs are being set up in Andhra Pradesh out of which 188 VDVKs have been sanctioned for this financial year. Trainings have been conducted in 49 of these and 7 Van DhanVikasKendrasare operational in the state. These will benefit approximately 78,900 tribal entrepreneurs from across the state. ITDA Paderu, which is acting as District ImplementingAgency/Implementing Agency in Visakhapatnam Dist. has procured and put in place 39 Adda Leaf Plates Hydraulic Machines, 390 – Sewing Machines and 40 Tamarind Block Making Hydraulic Machines for 54 of the sanctioned VDVKs.
These 7 operational VDVKs have already made sales worth Rs 3.48 lakhs. The Minor forest produce that are being processed in these operational VDVKs include Hill Broom grass, Bamboo, Tamarind and Adda Leaf. In the Devarapalli VDVK, beneficiaries from 15 SHGs have been trained on how to add value to Bamboo and make products such as lights (diyas) and candle stands. These value-added products have already seen sales of more than Rs 2.5 lakhs. Beneficiaries in Lammasingi VDVK are producing bricks of 500 gms and 1 kg of deseeded tamarind. These bricks of deseeded tamarind, which form a crucial ingredient in South Indian cuisine, are packaged and branded attractively.
Tribal beneficiaries from 25 SHGs in Korrai VDVK are processing hill broom with bamboo sticks to make bamboo hill brooms in different weights. Additionally in Peddabayulu VDVK, tribal beneficiaries from different SHGs (mainly women) are processing adda leaves and adding value by turning them into sustainable and eco-friendly cups and plates. The products made in these Van dhankendras have been launched and are being sold in the market. The beauty of this programme is that all the proceeds go directly to tribal entrepreneurs.
The sincere efforts and efficiency and the dedication of the tribal entrepreneurs along with the support of the nodal agencies have succeeded in making the Van DhanYojana a success in Andhra Pradesh. This will only increase as around 188 Van DhanVikasKendrasare expected to be operational in this coming year. In addition, a tribal food park is being planned to be set up in north coastal Andhra Pradesh. The focus of the food park is to set up, initially, a cashew processing unit at Rampachodavaram, East Godavari district and a coffee curing centre at Narsipatnam. Expected to be completed in the next year, this food park will provide employment to hundreds of tribals in the region.It is hoped that this initiative which fosters Vocal For Local and an Atmanirbhar Bharat will lead to optimising the income and livelihoods of tribal people and finally a transformation of their lives.