Read Time:
5 Minute, 27 Second
Union Minister of Education presents AICTE Lilavati Awards 2020 on women empowerment
By PIB Delhi
Union Minister of Education Shri Ramesh Pokhriyal 'Nishank' presented the AICTE Lilavati Awards 2020 on women empowerment to the winners in New Delhi today.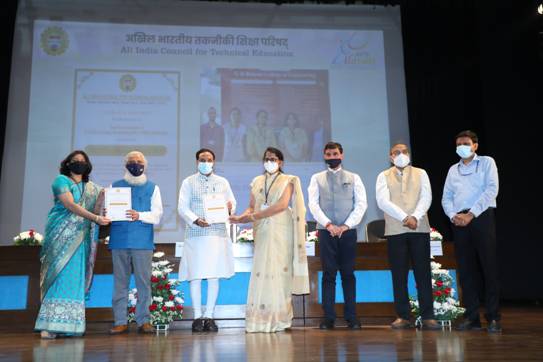 Speaking on the occasion Shri Pokhriyal congratulated all the 456 teams who participated in the contest. The Minister said that India is a country where 'Nari Tu Narayani' has been an integral part of our ethos and culture. In line with the vision of our Prime Minister, the govt has launched several welfare schemes for the overall development of girls and women in various fields, including Sukanya Samriddhi Yojana, Beti Bachao – Beti Padhao Yojana, etc, he added. Shri Pokhriyal also informed that Government launched Udaan scheme which aims to enable girls of weaker socio-economic status at school level to gain access to higher education. We also started Pragati Yojana to give young women opportunity to further their technical education, he added. Shri Pokhriyal highlighted that the new National Educational Policy has greatly emphasised on gender equality and students should participate in such initiatives to promote women empowerment.
He welcomed the initiative of AICTE for instituting the Lilawati Awards and stressed that such innovative steps shall be great motivation for girls to join higher education. This initiative will pave a path towards equality in education and innovation, for women
AICTE Chairman Professor Anil Sahasrabudhe said, "I thank Honorable minister Shri Ramesh Pokhriyal 'Nishank' for attending the event. AICTE is so happy to present this year's Lilawati award aimed at empowering womanhood in the nation. Moreover, I congratulate all the teams who submitted the entries. India is a country known for respecting and celebrating the glory of womanhood, and with initiatives like these, AICTE is also contributing its bit to empower the women in our country," said Sahasrabudhe.
Based on the theme 'Women Empowerment', AICTE finalized the winners from a total of 456 entries who competed across 6 sub themes, which include, Women's Health, Self-Defense, Sanitation and Hygiene, Literacy, Women Entrepreneurship, and Legal Awareness. After analyzing the initial entries, the top 10 entries under each sub-theme were invited for presentation before the two committees headed by Prof Sushma Yadava, Vice-Chancellor, B.P.S. Mahila Vishwavidyalaya Khanpur Kalan, Haryana and Dr. Vinita S. Sahay, Director, IIM Bodh Gaya.
SWEAT (Sona Women Entrepreneurship and Training) from Sona College of Technology, Tamil Nadu won the contest in the ' Women Entrepreneurship' sub theme. Under the 'Digital Literacy' sub theme, Bharatiya Vidyapeeth won the contest. Institute of Management and Entrepreneurship Development Pune won the award under the 'Literacy' sub theme. WIT Women Health Coalition from Walchand Institute of Technology, Maharashtra won the award under the 'Women's Health' sub theme. Radiant Seetha from Thiagarajar Polytechnic College won the contest in the 'Legal Awareness' sub theme. Finally, Paritrana from St. Joseph's College of Engineering, Tamil Nadu won the award for the 'Self Defense' sub theme.
Bharatiya Vidyapeeth, who won the award under the digital literacy subtheme suggested that internet revolution that has happened in India post-2014 has played a crucial role in empowering women in the nation. "Post-2014, the internet revolution happened in India, and it has helped women in the country to grow, as information is accessible at their fingertips. However, even now, there are several women in the country who do not have sufficient digital literacy, and we should bring them too to the forefront of the society," said Bharatiya Vidyapeeth.
LIST OF AWARDEES
Legal Awareness-
Sr. No
Position
Name Of Institute
Name of Team
Team Members
Winner
THIAGARAJAR POLYTECHNIC COLLEGE,TAMIL NADU
RADIANT SEETHA
R. MAHESWARIM. PONNIP. KARUNYA DEVIS. SARANYASISTER A.S. CELINE AUGUSTINE MARY
1st Runner –Up
NAVODAYA INSTITUTE OF TECHNOLOGY, RAICHIUR, KARNATAKA
WOMEN EMPOWERMENT CELL-NITR
HARSHITA GANGAKHEDM TEJASWINIGEETA K.MSHALINI KCHANNAVEERAMMA E
2nd Runner –Up
PONDICHERRY ENGINEERING COLLEGE,PUDUCHERRY
MALAR
RAJATHY RATHINASAMYSANTHI GURUSAMYPALLAVHEE TAMIZHCHELVANGUEJALATCHOUMY KOTHANDAPANIKAVITHA KUMAR RAJENDIRAN
LAKSHMI NARAIN COLLEGE OF TECHNOLOGY, MADHYA PRADESH.
UDAAN
AYUSH PURWARGARGI DUBEYMEGHA CHOUBEYPALAK JAINPRAGYA JAIN
Self Defence-
Winner
ST. JOSEPH'S COLLEGE OF ENGINEERING,TAMIL NADU.
PARITRANAS
S. AKSHAYADELLECTA JESSY RASHMIVADAVANNUR CHELLAN RAMAKRISHNAN JAYARAMA PRADEEPRAMASAMY SREEKANTHGUNASEKARAN BRINDHA
1st Runner –Up
THIAGARAJAR POLYTECHNIC COLLEGE,TAMIL NADU
SHAKTHI
THEJESWINI VJAYANTHI CBHOVANAASHWARI TUDHAYAKUMAR PJ. AMUL RAJ
SRI SAI RAM ENGINEERING COLLEGE,TAMIL NADU.
MAHILA PRATHIRAKSHA ABHIYAAN
K. L. NITHISH RAJAS. SRIVIDHYADr. M.NITHYADr. K.LATHAS. SUBHA
2nd Runner –Up
VIVEKANANDA INSTITUTE OF TECHNOLOGY,RAJASTHAN
WARRIORS
DEEPIKA JANGIDTANUSHREE MEHARWALRUCHI SHARMAVANDANA AGARWAL
G. H. RAISONI COLLEGE OF ENGINEERING, NAGPUR, MAHARASHTRA
SURAKSHA CHAKRA
MD. AASHIM KHANKANCHAN DIYEWARVIBHA BORABHAKTI PATANKARISHA KHEDIKAR
Sanitation & Hygiene-
Winner
SMT. KISHORITAI BHOYAR COLLEGE OF PHARMACY, MAHARASHTRA
SKBCOP ECO CLUB
TANISHKA RANDIVEPRANJAL TIDKEDR. RENUKA DASSHRUTI NASREMR. MANISH AGLAWE
1st Runner –Up
SONA COLLEGE OF TECHNOLOGY, TAMIL NADU
SWSAH (SONA WOMEN SANITATION AND HYGIENE)
PRIYALATHA SGULSHAN TAJ M N APARAMASIVAM SKANIMOZHI JRASHMA M
ST. JOSEPH'S COLLEGE OF ENGINEERING, TAMIL NADU
VOW – VIRANGANA OF WASH (WATER SANITATION HYGIENE)
N HEMAPRIYAVENKATESAN MUTHULAKSHMIGANDHIMARUTHIAN LATHASELVIRENUKA VISWANATHANK RAJARAMAN
2nd Runner –Up
SRI KRISHNA COLLEGE OF ENGINEERING AND TECHNOLOGY, TAMIL NADU
SKCET SANITATION AND HYGIENE TEAM
KAVIYA SSUDHIR SOPHIAKARPAGAM MYLSAMYR GEETHAMANI RP A THIRUNAVUKARASU
Women Health-
1.
Winner
WALCHAND INSTITUTE OF TECHNOLOGY,MAHARASHTRA
WIT WOMEN HEALTH COALITION
DR. RUPALI J.SHELKEDr. PRATIBHA YALAGI ALADEEPRASHMI DIXITDIPALI DILIP AWASEKARROHINI MERGU
2.
1st Runner –Up
POONA COLLEGE OF PHARMACY, MAHARASHTRA
BHARATI PCP SAKHEE
1.VARSHA POKHARKAR2.ARULMOZHI SATHIYANARAYANAN3. ASAWARI RAUT4. MANJUSHA SAJITH5. SAVITA GOWEKAR
3.
2nd Runner –Up
KUMARAGURU COLLEGE OF TECHNOLOGY, TAMIL NADU
NATURAL PRODUCTS FOR HEALTHCARE
1. THIYAGARAJAN SATHISH KUMAR2. KUMARESAN KUPPAMUHTU3. SOUNDARARAJAN NITHYA PRIYA4. S. VASUKI5. S. BHARTHI KAMALA
4.
BIYANI INSTITUTE OF SCIENCE AND MANAGEMENT, RAJASTHAN
BIYANI INSTITUTE OF SCIENCE AND MANAGEMENT
1. SANJAY BIYANI2. NEETA MAHESHWARI3. NEHA PANDEY4. POONAM SHARMA5. ANJU BHATT
Women Entrepreneurship
1.
Winner
SONA COLLEGE OF TECHNOLOGY TAMIL NADU
SWEAT (SONA WOMEN ENTERPRENURSHIP AND TRAINING)
RAMALINGAM MALATHYSRINIVASAN PADMADHANAKODI RAJAKRISHNASWAMYPILLAI RANGANATHAN KAVITHAARUMUGAM RANJITHKUMAR
2.
1st Runner –Up
ENTREPRENEURSHIP DEVELOPMENT INSTITUTE OF INDIA, GUJARAT
WOMEN EMPOWERMENT
RAJESH GUPTABAISHALI MITRANIKITA TASATYA ACHARYARAMAN GUJRAL
3.
2nd Runner –Up
BHILAI INSTITUTE OF TECHNOLOGY
UNMUKTA
MANISHA SHARMASHUBHRATA NAGPALARPANA RAWAL
4.
G. H. RAISONI COLLEGE OF ENGINEERING, NAGPUR, MAHARASHTRA.
AATMANIRBHAR
SWAPNA CHOUDHARIATUL DESHMUKHARCHANA RAUTBHARGAVI KAKIRWARMADHAVI CHAVHAN
Literacy –
1.
Winner
BHARATI VIDYAPEETH ( Deemed to be University) INSTITUTE OF MANAGEMENT & ENTREPRENEURSHIP DEVELOPMENT, PUNE
DIGITAL LITERACY
MS SHWETA TATEKIRTI GUPTAANURADHA YESUGADERAJITA DIXITHEMA MIRJI
2.
1st Runner –Up
SRI SAI RAM ENGINEERING COLLEGE, TAMIL NADU
SAI STHREE VIDYA ABHIYAAN
S.VASUPRADHADr. SOMA PRATHIBHADr. N. MANIB. PRIYAM. SIVA SANKARI
3.
2nd Runner –Up
HYDERABAD INSTITUTE OF TECHNOLOGY AND MANAGEMENT, HYDERABAD
We-Lit
DEVIKA SUGGUBODI VENKATESWARLUARVIND SIDDAPURAMSURESH AALURIJOYTHSNA K SMT. SUSHEELA DEVI
4.
SRI MANAKULA VINAYAGAR ENGINEERING COLLEGE, PUDUCHERRY
SUPER SONIC
PAVITHRAN.TARVIND.KBALAMURALI.MHARINI.GJASMINE.A