Read Time:
5 Minute, 13 Second
Over 150 delegates from nearly 32 countries participate in IEVP 2022 through virtual mode
by PIB Delhi
The Election Commission of India (ECI) today hosted the virtual International Election Visitors Programme (IEVP) 2022 for Election Management Bodies (EMBs) from nearly 32 Countries and four international organizations. An overview of the ongoing Elections for Legislative Assemblies of Goa, Manipur, Punjab, Uttarakhand and Uttar Pradesh was presented to more than 150 EMB Delegates participating online. Ambassadors/High Commissioners and other members of the Diplomatic Corps based in India from nine countries also participated in today's virtual IEVP 2022.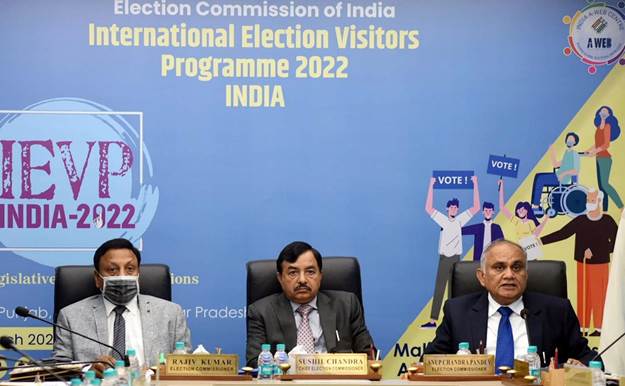 India has been hosting the International Election Visitors Programme (IEVP) since 2012 elections where International delegates are invited to visit the Polling stations and see the electoral processes in practice for themselves in person. Even during the Covid pandemic with travel restrictions, IEVP in India has not been discontinued and continues to be held in an innovative virtual mode. During the half day session today, recorded video shots of the poll activities from the five states were shown to the participants. Live streaming of today's poll activities from polling stations in Varanasi, Uttar Pradesh was shown along with a detailed briefing session of the electoral process. In the concluding session, the Chief Election Commissioner and Election Commissioner's addressed the delegates.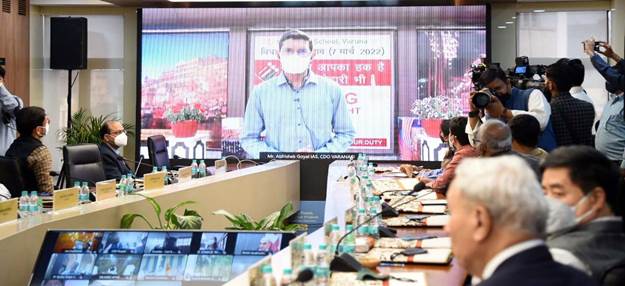 Live streaming of poll activities from a polling station in Varanasi, Uttar Pradesh
Addressing the International delegates, Chief Election Commissioner of India and Chairperson A-Web, Shri Sushil Chandra pointed out that despite COVID-19 pandemic posing several logistical challenges in conducting elections, India has yet again conducted elections in five States with 183.4 million electors across 690 Assembly Constituencies, making our electoral system more inclusive, accessible and participative. While highlighting the various initiatives taken by Election Commission of India for facilitating senior citizens, PwD and women voters, he appreciated the innovative and localized solutions implemented by field officers to overcome barriers faced by various categories of voters. He mentioned that over 11 million new voters were added for the ongoing elections in the five states. He added that the extension of postal ballot facility to senior citizens and PwD voters has taken ECI literally at the doorstep of voters and consistent efforts have led to enthusiastic participation of women voters in these elections as compared to their male counterparts. For instance in Uttarakhand, female voter turnout was 67.2% as compared to 62.6% male voter turnout; Goa recorded 80.96% female turnout while male turnout was 78.19%.
Shri Chandra informed that in view of COVID social distancing norms and reduced number of electors at polling stations, a total of over 2.15 lakh polling stations were set up in five states which has been an increase of nearly 31,000 polling stations from previous elections of 2017. Ensuring the motto of 'No Voter to be left behind', our polling personnel crossed tough terrains and snow covered regions in Uttarakhand and also reached out to remote and sensitive regions in Manipur, even if the polling parties had to be airlifted or traverse on foot in those regions. In border areas to ensure security, drones were pressed into surveillance. Vigil on social media posts was also kept to ensure no undue misinformation vitiated the poll process. Efforts by expenditure monitoring teams ensured inducement free elections.
CEC in his address also highlighted the special adaptive changes made by ECI during the ongoing elections to five states, to mitigate the risk of spread of covid-19 and making the polling stations a safe place for the voters. Virtual mode of campaigning for a larger part of the period, stress on total vaccination status in poll bound states, regular interactions with health authorities, helped ECI ensure COVID safe elections.
Acknowledging the challenges posed by the COVID-19 pandemic, Election Commissioner Shri Rajiv Kumar said that the Commission's aim has been to work with three broad objectives – Covid safe Elections, hassle-free comfortable voting experience and maximum voter participation. While elaborating on the special measures undertaken by ECI to ensure COVID safe elections, he mentioned that the Commission took a graded response keeping a balance between the candidates and parties right to campaigning and with evolving COVID-19 situation, ensuring safety of voters and polling personnel. Highlighting facilitation for different categories of voters in the current elections, Shri Kumar mentioned that ECI reached out to nearly 5.3 lakhs service voters, 13 lakh PwD voters and a large number of centenarian voters.
Welcoming the delegates, Election Commissioner Shri Anup Chandra Pandey highlighted the major milestones including the adoption of the Model Code of Conduct, system of deputing Election Observers, EVM-VVPAT and Information & Communication Technology in the glorious journey of Indian elections in the last 70 years for ensuring free, fair, transparent and ethical elections. He also gave an overview of the various initiatives taken by ECI including voter connect through SVEEP and voter friendly polling stations to ensure ease of voter registration and facilitation for various categories of voters for enhanced electoral participation.
Secretary General and Head of India A-WEB Centre at ECI Shri Umesh Sinha while giving an overview of the Election Commission of India's association with Election Management Bodies across the world said that this IEVP Programme provides a platform for exchange of ideas and sharing of experiences, best practices and skills in the field of Electoral Management with various countries. The International Election Visitors Programme interactions in India and initiatives and learn from each other's experiences to adopt best practices suited for their specific requirements.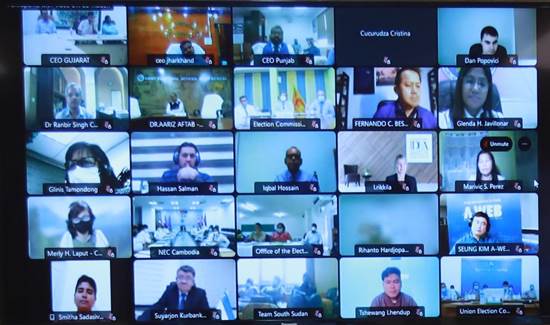 Over 150 Delegates from nearly 32 countries across the world including Australia, Bahamas, Bangladesh, Bhutan, Cambodia, Croatia, Ethiopia, Fiji, Georgia, Guinea, Guyana, Kenya, Liberia, Maldives, Mauritius, Moldova, Mongolia, Myanmar, Philippines, Romania, Seychelles, Sierra Leone, Solomon Islands, South Korea, Suriname, Tanzania and Uzbekistan and 4 international organizations including International IDEA, International Foundation of Electoral Systems (IFES), Association of World Election Bodies (A-WEB) and Community of Democracies participated in IEVP 2022 today. Mr. Jonghyun Choe, Secretary General, Association of World Election Bodies, High Commissioners and Diplomats from Australia, Bhutan, Bangladesh, Brazil, Fiji, Nepal, South Africa, Sri Lanka and Switzerland participated in the event.
Advertisements
Listen to IBG NEWS Radio Service today.