Read Time:
1 Minute, 26 Second
New materials developed can help move towards stable LEDs emitting bright light
By PIB Delhi
Plasma treatment of some inorganic nano-materials has shown the way towards bright, stable and affordable light-emitting diodes (LEDs) which can be sources of lighting for the future.
Cost-efficient and bright light-emitting diodes (LEDs) are commonly desired for general light sources, but attaining desired stability and brightness have been challenges for scientists who are looking for new materials that are stable and produce bright emissions and can be commercially viable
Scientists at the Centre for Nano and Soft Matter Sciences (CeNS), an autonomous research institute under the Department of Science and Technology (DST), found that simple plasma treatment of inorganic material of cesium lead halide nanocrystals can lead to an enhanced stabilization many folds showing the promise of bright and stable LEDs.
The team of researchers led by Dr. Pralay K. Santra found a mechanism of plasma treatment induced stability enhancement in inorganic perovskite nano-crystals that could boost their emission. Plasma treatment induces the cross-linking of the organic molecules, oleylamine, present on the surface of the nanocrystals. This creates a stronger network of ligands, providing better encapsulation and higher PL intensity. They have also presented a novel anticounterfeiting application that uses the method of plasma treatment to fabricate covert double-layer security tags. The findings from the present work were recently published in the journal 'ACS Applied Nano Materials.'
The team has also filed the provisional Indian patent for their discovery and actively looking for partners to commercialize the technique.
Publication link:
For more details Dr. Pralay K Santra, ([email protected]) can be contacted.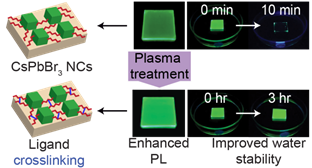 Advertisements
Listen to IBG NEWS Radio Service today.