Read Time:
3 Minute, 36 Second
COMMISSIONING OF FIFTH KALVARI CLASS SUBMARINE 'VAGIR' AT NAVAL DOCKYARD, MUMBAI
By PIB Delhi
– Another major milestone for Indian Navy's Project 75 and Make in India initiative
– INS Vagir would form part of the Western Naval Command
– The submarine has advanced stealth features and long range guided torpedoes as well as anti-ship missiles
Indian Navy's fifth stealth Scorpene class Submarine INS Vagir was commissioned into the Indian Navy today, 23 Jan 2023 at the Naval Dockyard Mumbai in the presence of Adm R Hari Kumar, Chief of the Naval Staff, the Chief Guest for the ceremony. Six Scorpene Class submarines are being built in India by the Mazagon Dock Shipbuilders Limited (MDL) Mumbai, under collaboration with M/s Naval Group, France. INS Vagir would form part of the Western Naval Command's Submarine fleet and would be another potent part of the Command's arsenal.
Vagir was launched on 12 Nov 20, under Project 75 (P75) and was delivered to Indian Navy on 20 Dec 22 post completion of sea trials. Vagir has the distinction of having the lowest build time among all indigenously manufactured submarines till date.
Flag Officer Commanding-in-Chief, Western Naval Command VAdm AB Singh, Chairman & Managing Director, MDL VAdm Narayan Prasad (Retd) and other senior civil & military officials of Ministry of Defence were present during the commissioning ceremony. The crew of the erstwhile 'Vagir', a Russian origin Foxtrot Class Submarine which was decommissioned in 2001 were special invitees for the ceremony and the then commissioning Commanding Officer RAdm K Raja Menon (Retd) was also present.
The Scorpene Submarines are extremely potent platforms, they have advanced stealth features and are also equipped with both long range guided torpedoes as well as anti-ship missiles. These submarine have a state of the art SONAR suite and sensor suite permitting outstanding operational capabilities.
CNS Speech
Speaking on the occasion CNS stated that INS Vagir will give a significant fillip to the Indian Navy's operational might and serve as a potent deterrent for any adversary.
He also highlighted that Vagir is the third submarine inducted into the Navy in a short span of 24 months. "This underscores the coming of age of India's shipbuilding industry, and the maturing of our defence ecosystem. It is also a shining testimony to the expertise and experience of our shipyards to construct complex & complicated platforms and serves to reinforce Indian Navy's unequivocal commitment and steadfast resolve to be a fully 'AatmaNirbhar' force by 2047".
Congratulating the CMD and personnel of Mazagon Dock Shipbuilders Ltd for their commendable efforts which have led up to Vagir's commissioning CNS stated that MDL is a close and valued partner for the Indian Navy & has been at the forefront of Navy's transition from a 'Buyer's Navy' to a 'Builder's Navy'.
The CNS complimented the Commissioning Crew stating that "it gives me every confidence that each one of you will 'do your duty and do it well', and that Vagir will serve the Nation with pride and élan guided by the highest traditions of the Navy".
Vagir – Sand Shark
The Sand Shark represents 'Stealth and Fearlessness', two qualities that are synonymous with the ethos of a submariner. The motto of the submarine, 'Saahas Shaurya Samarpan' epitomizes the core values of Courage, Valour and Dedication. These values reflect in undertaking all operations at its peak efficiency to emerge victorious in all conditions and ability to be synergised when faced with a difficult task. The motto has been imbibed by the men which inspires them to overcome adversities, to remain confident, bold and brave even in the toughest situations so as to keep the edge 'Sharp and Ready'.
The induction of Vagir is another step towards the Indian Navy, consolidating its position as a builder's Navy, as also is a reflection of MDL's capabilities as a premier ship and submarine building yard of the world. Project – 75 also marks a critical milestone in the Yard's continued importance in the field of Defence Production.
The commissioning of Vagir is coinciding with 'Azadi ka Amrit Mahotsav' celebrations. The commissioning of this indigenous submarine once again denotes the drive and focus towards 'AatmaNirbhar Bharat'.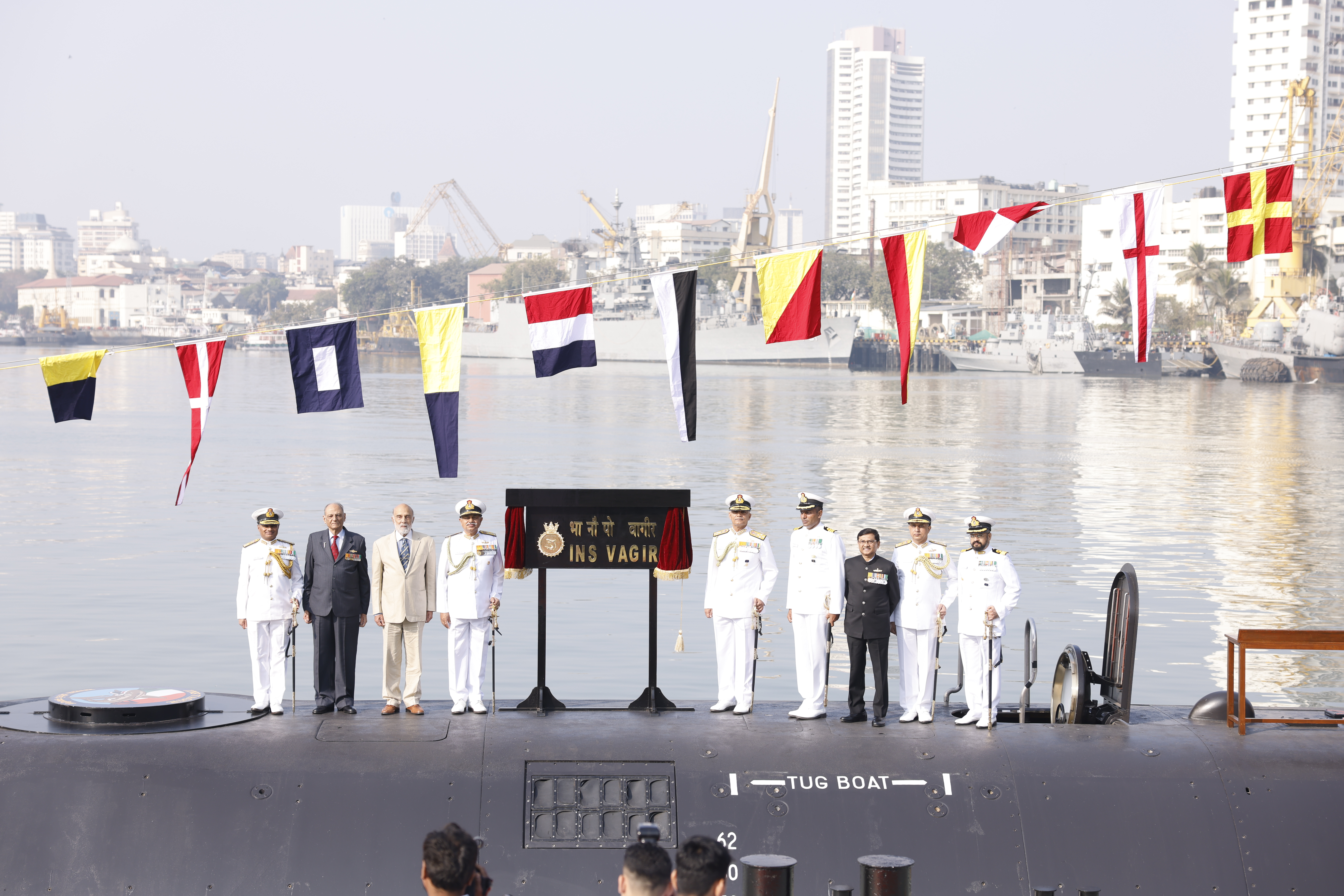 ______