Read Time:
3 Minute, 43 Second
PRESIDENT OF INDIA PRESENTS SANGEET NATAK AKADEMI FELLLOWSHIPS AND AKADEMI AWARDS
ART BINDS THE LINGUISTIC DIVERSITY AND REGIONAL CHARACTERISTICS IN ONE THREAD SAYS THE PRESIDENT

SANGEET NATAK AKADEMI IS INVOLVED IN PROTECTION AND PROMOTION OF SEVERAL ART FORMS IN ALL PARTS OF THE COUNTRY SAYS SHRI G KISHAN REDDY

INSTITUTION OF SANGEET NATAK AKADEMI HAS BEEN INSTRUMENTAL IN REALISATION OF THE EK BHARAT SHRESTH BHARAT VISION SAYS SHRI ARJUN RAM MEGHWAL
By PIB Delhi
The President of India, Smt Droupadi Murmu presented the Sangeet Natak Akademi's Fellowships (Akademi Ratna) and Sangeet Natak Akademi Awards (Akademi Puruskar) for the year 2019, 2020 and 2021 in New Delhi today (February 23, 2023). Also present in the awards ceremony were Shri G. Kishan Reddy, Minister of Culture, Tourism and DoNER, Shri Arjun Ram Meghwal, Minister of state for Parliamentary Affairs & Culture, Dr. Sandhya Purecha, Chairman, Sangeet Natak Akademi, Smt. Uma Nadnuri, Joint Secretary, Ministry of Culture.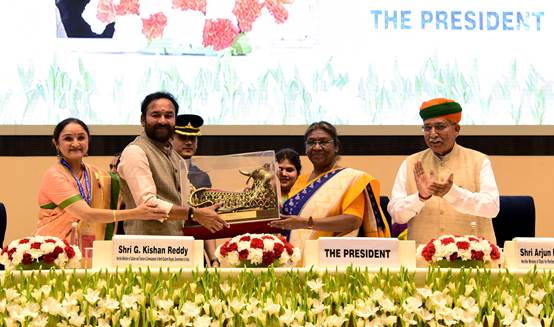 Speaking on the occasion, the President said that the civilization showcases the material achievements of a nation but intangible heritage reveals through its culture. Culture is the real identity of a country. India's unique performing arts have kept our incredible culture alive for centuries. Our arts and artists are the carriers of our rich cultural heritage. 'Unity in diversity' is the biggest feature of our cultural traditions.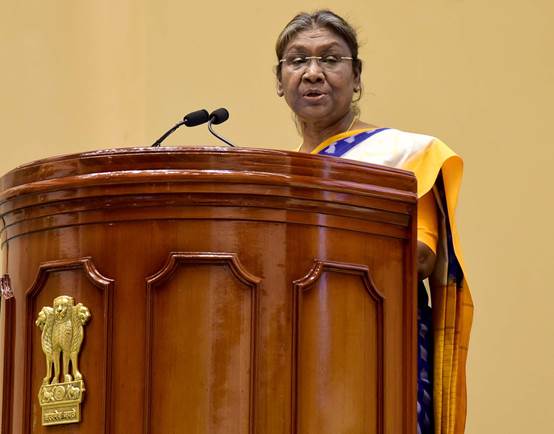 The President said that in our tradition, art is a spiritual practice, a medium of the search for truth, a medium of prayer and worship, a medium of public welfare. Collective exuberance and unity also find expression through dance and music. Art binds the linguistic diversity and​​regional characteristics in one thread.
The President said that we should take pride in the fact that the oldest and best definitions and traditions of art have developed in our country. Our cultural values​​have become more useful in the modern era. In today's time which is full of tension and conflict, Indian arts can spread peace and harmony. Indian arts are also the best example of India's soft power.
The President said that just as nature's gifts like air and water do not recognize human limitations, the art forms are also above language and geographical boundaries. The music of M. S. Subbulakshmi, Pandit Ravi Shankar, Ustad Bismillah Khan, Lata Mangeshkar, Pandit Bhimsen Joshi and Bhupen Hazarika are unhindered by language or geography. With their immortal music, they have left an invaluable legacy for music lovers not only in India but all over the world.
Shri G Kishan Reddy, Union Minister of Culture, Tourism and DoNER said that he was pleased that Sangeet Natak Akademi is involved in protection and promotion of several art forms in all parts of the country. He said that the country is proud of the talent that is present with the youth artists of the country.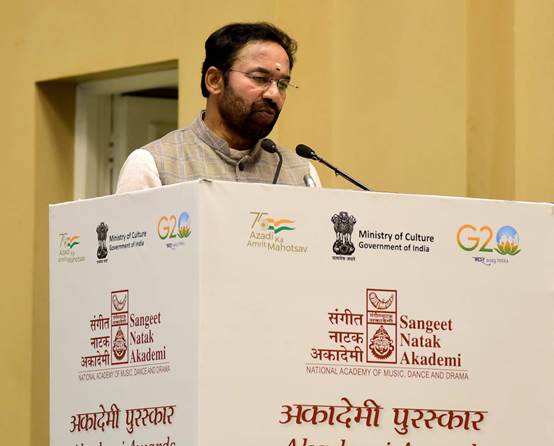 The minister said that our country's Intangible Cultural heritage is not only respected in India but also at the global level. He expressed that as India is presiding G20 this year, this is an opportunity to present our heritage, diversity and art before the international delegates.
Addressing the artists, G Kishan Reddy requested that they undertake efforts to ensure that the culture of our country reaches maximum number of people through different art forms. He said that arts have a universal appeal and also the capability to transcend differences.
Arjun Ram Meghwal, Minister of state for Culture and Parliamentary Affairs said that, in the 70 years that has spanned from the time of establishment of the Sangeet Natak academi, it can be seen that the institution has been instrumental in realisation of the Ek Bharat Shresth Bharat vision. He said that it has been the tradition of the artists from our country to pay salutations and respect to Maa Saraswati before any performance. This gesture symbolises the huge learnings and wisdom that they have received from Music.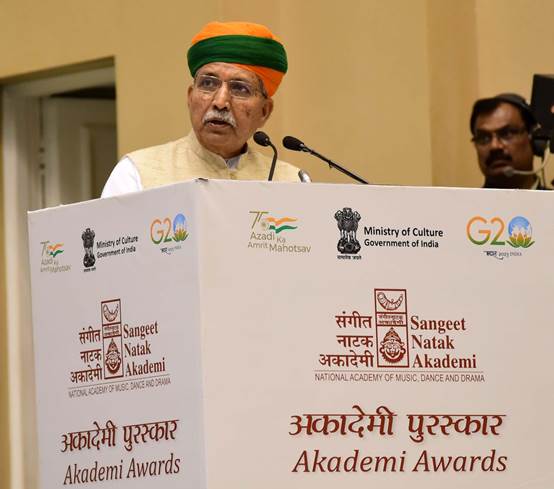 The minister said that the year 2023 is very important for India and also for the artists. For India because it has the presidency of G20 and for the artists because they were receiving felicitation in the first year of the Amrit Kaal.
The Akademi's fellowship (Akademi Ratna) carries a purse money of Rs. 3,00,000/- (Rupees Three Lakhs only) and Akademi Awards (Akademi Puraskar) carry a purse money of Rs. 1,00,000 (Rupees One Lakh only). The award also carries a Tamrapatra and Angavastram.
Click here for the full list of awardees.