Read Time:
2 Minute, 30 Second
Start-up Entrepreneur Workshop on 'Dry and Wet Waste Management Technologies for Incubation' organized by ATAL INCUBATION CENTRE, BARC
By PIB Mumbai
Mumbai : 13 March 2023
A Start-up Entrepreneurship Workshop was organized by Atal Incubation Centre (AIC) – BARC, DAE Convention Centre, Anushaktinagar, Mumbai, 400094 on Friday 10th March 2023. AIC-BARC is established under the ambit of Atal Innovation Mission (AIM), NITI Aayog to create a start-up eco-system based on spin-off technologies of Department of Atomic Energy (DAE). AIC-BARC started its operations on 22nd December 2022 by signing incubation agreements for spin off technologies of Bhabha Atomic Research centre (BARC) with four industries.
AIC-BARC has been set up in line with the "AatmaNirbharBharat" Abhiyaan announced by Hon Prime Minister, and subsequent reforms in Atomic Energy Sector declared by Finance Minister on 17th May 2020. AIC-BARC is one of the first Technology Development cum incubation centres set up in DAE, for the purpose of fostering synergy between government research facilities and tech entrepreneurs.

Students pursuing final year and those who completed undergraduate studies in Sciences/Engineering/Commerce were invited for the event. Overwhelming response was received for the invitation and about 150 attended the workshop. In the workshop, two technologies namely SHESHA (for wet waste management) and Rapid Bio-composting (for dry waste management) were introduced by BARC scientific experts in the field and their business models were also presented. Demonstration of working models in Anushaktinagar and nearby areas for both SHESHA and Rapid Bio-composting plants were arranged for the participants. These technologies aim to contribute towards the Swachchha Bharat Mission of the Govt. of India. Additionally, waste is being converted to wealth, by way of product arising from refuse, that goes back to nature ensuring continuation of biogeochemical cycles and replenishing soils with vital nutrients.

SHESHA is a novel, compact helical shaped waste converter aimed to manage the biodegradable waste generated in small housing societies, restaurants, etc. in-situ, thus allowing decentralized processing of the biodegradable waste. The system has tremendous potential to process the waste as well as generation of good quality fuel and manure required for soil applications. The name Shesha has been given on the basis of the serpentine shape of the digester (its resemblance to the snake Shesha) as well as Sanskrit name of waste.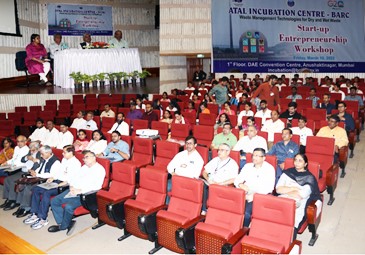 The Rapid composting technology is based on cellulolytic fungi named Trichoderma koningiopsis isolated from tree bark. It is safe to the environment and for human handling. The formulation is capable of composting kitchen waste, agricultural waste, garden waste (dry leaves including coconut leaves) and temple waste. This method, being completely aerobic in nature, is devoid of foul odour and hence has greater acceptability in the society.
Workshop ended with a very lively and interactive feedback session wherein aspiring entrepreneurs interacted with a panel of experts from BARC and the success of the workshop indicates a promise of launching few successful start-ups in coming years.