Read Time:
3 Minute, 46 Second
Indian Railways Runs 'Swachhata Hi Seva Campaign' Across The Nation; 1.5 Lakh Individuals Dedicate Nearly 5 Lakh Man-Hours In Just 9 Days
By PIB Delhi
As part of the ongoing Swachhata Hi Seva Swachhata Pakhwada from 15th September 2023 to 2nd October 2023, the Indian Railways is working towards a cleaner, more sanitized railway system through a multitude of activities that aim to bring about a holistic change. In this year's edition, there is a special emphasis on the cleanliness of railway tracks at stations, approaches to major stations, and the elimination of plastic waste from railway premises. It's a multifaceted approach to ensure that every nook and cranny of the railway network adheres to the principles of cleanliness and sustainability. The campaign includes Swachh Samwaad (Clean Dialogue), Swachh Railgaadi (Clean Trains), Swachh Station (Clean Stations), Swachh Parisar (Clean Premises), Swachh Aahar (Clean Food), and Swachh Prasadhan (Clean Pantries) among others.
In the first nine days of the Swachhata Hi Seva campaign, from the 15th to the 24th of September 2023, more than 1.5 lakh individuals enthusiastically participated, dedicating a collective 498,265 man-hours to the campaign. This sheer number reflects the deep-rooted sense of responsibility and ownership that the citizens have taken toward making the railways cleaner and more hygienic. The railways have adopted a comprehensive approach to raise awareness among passengers. The Swachhata Hi Seva logo and banners are prominently displayed on the Railways' official website. Announcements are made to educate passengers about proper waste disposal on trains and at stations. Prabhat Pheris, morning processions, are organized under the slogan "Swachh Rail, Swachh Bharat" to create awareness about the campaign.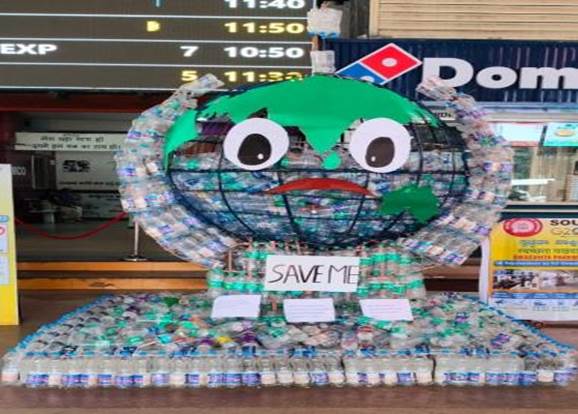 Sculpture depicting earth in the grip and pressure of plastic waste created at Bengaluru station
The campaign was kicked off with an auspicious start as the Chairman of the Railway Board and CEO administered the Swachhata pledge to railway officials via video conferencing from Rail Bhawan. This symbolic gesture signifies the railways' unwavering commitment to the cause.
The Indian Railways is also using art and culture as vehicles for change. Nukkad Nataks, street plays, is organized in collaboration with NGOs, religious bodies, and schoolchildren at railway stations. These colorful and informative performances serve as engaging platforms to educate passengers about the importance of cleanliness and sanitation.
One of the core objectives of the campaign is to discourage open defecation in areas approaching railway stations, on tracks, in yards, or depot premises. Information, Education, and Communication (IEC) campaigns are instrumental in spreading this message effectively. In an effort to promote eco-friendliness and sustainability, a cleanliness awareness campaign focusing on the use of bio-toilets is in full swing. Anti-littering notices and Do/Don't posters are prominently displayed to remind passengers of their civic responsibilities.
Wagon Repair Depot, ADRA has transformed a garbage dumping area into a garden with flora and fauna
The campaign also aligns with the "Hara Geela Sookha Neela" initiative, emphasizing the segregation of dry and wet waste with dedicated bins. All sanitation assets, such as litter bins, public toilets, dhalaos (waste collection points), waste transport vehicles, and Material Recovery Facilities (MRFs), are undergoing repair, painting, cleaning, and branding in station areas. These improvements not only enhance cleanliness but also contribute to the aesthetics of the railway stations.
Moreover, under the banner of 'Har Patri Saaf Suthri' (Every track is clean and tidy), railway tracks are receiving intensive cleaning. The residential premises, including Railway Colonies, retiring/waiting rooms, running rooms, rest houses, dormitories, canteens, and food stalls in and around station premises, are also part of the cleanliness drive. The creation of "waste to selfie" points adds a touch of creativity to the campaign, encouraging passengers to take pride in contributing to a cleaner environment.
The Indian Railways' participation in the Swachhata Hi Seva Swachhata Pakhwada campaign reflects the organization's unwavering commitment to cleanliness, sustainability, and the realization of the Swachh Bharat Abhiyan's vision. The railways are not just a mode of transportation but also a reflection of the nation's aspirations for a cleaner and healthier future. Under the leadership of the Prime Minister and the dedication of countless railway personnel and citizens, the Indian Railways is on track to achieving new heights of cleanliness and eco-friendliness. This campaign serves as a beacon of hope for a Swachh Bharat (Clean India) and a Swachh Rail (Clean Rail).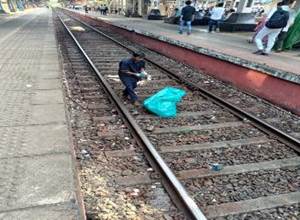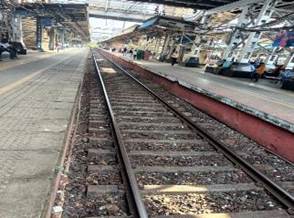 Before and After rag picking from the track at Borivali Station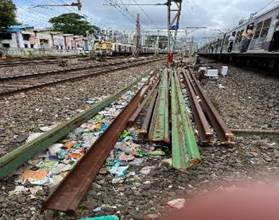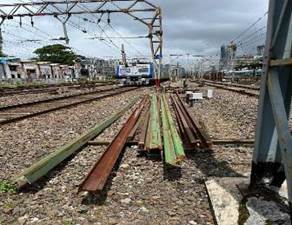 Before and After Cleanliness from the side of tracks at Mumbai Central