Read Time:
2 Minute, 37 Second
'Swachhata He Seva': Karnataka Rejuvenates 52 Temple Water Bodies
By PIB Delhi
The nation is currently witnessing a 'Jan Andolan' for Swachhata under the 'Swachhata He Seva' campaign with people from across various States/UTs participating in large numbers to make a 'Swachh Bharat'. People from all States/UTs have contributed in their own unique way and one such story is from the state of Karnataka where thousands of people have invested their time, effort, and resources to revive temple water bodies called 'Kalyanis'. Over 52 'Kalyanis' spread across four districts of Karnataka have been cleaned and rejuvenated during the ongoing 'Swachhata Hi Seva' campaign. Thousands of people, through Shramdaan, have been able to rejuvenate these water bodies, and raise awareness about cleanliness and protection of water bodies for future generations.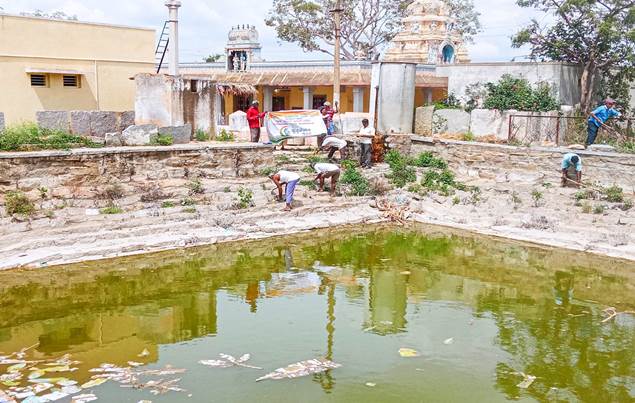 In the districts of Ramnagar, Gadag, Mandya, and Kolar, the Kalyani have been cleaned and revived after being abandoned for many years. These Kalyanis are deeply associated with the ancient and historical importance of temples along with being a sustainable source of water.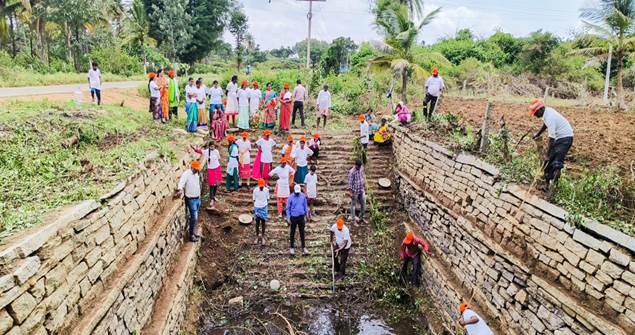 Stepwells in Karnataka are not just relics of the past, they represent a multifaceted aspect of the state's history, culture, and heritage while also holding potential for addressing contemporary water management challenges. Such water bodies are vital for sustainability of precious water resources. The importance of these stepwells can be gauged by the following aspects:
1. Water Storage and Management – Stepwells were crucial for water storage and management in arid regions of Karnataka. They helped communities store water during the dry seasons, ensuring a reliable water supply for drinking, irrigation, and daily needs.
Stepwell called Musukina Bavi in Lakkundi is built near the Manikeshwara Temple. Stepwells were built to manage the groundwater, and they were invaluable during the searing summer. The builders dug deep trenches to make the groundwater available throughout the year and constructed artistic steps for people to go down.
2. Architectural Heritage- Many stepwells especially Gadag district Lakkundi kalyanis marks the apex of Chalukyan architecture. Karnataka are architectural marvels, showcasing the ingenuity and craftsmanship of ancient builders. They often feature intricate carvings, ornate pillars, and unique designs, serving as important cultural and architectural heritage.
3. Cultural Significance – These stepwells were not just utilitarian structures; they were also gathering places for communities. They hosted social and cultural events and provided a sense of identity and belonging to the local people. For example, the Kalyani at the Grama Bairaveshwara temple in Ramanagara district was built during the Kempegowda period.
4. Historical Context – Stepwells often have historical inscriptions and carvings that provide valuable insights into the history, culture, and traditions of the region. They are a rich source of historical documentation.
5. Spiritual Importance: Some stepwells were associated with religious or spiritual significance. They were often located near temples or served as places of meditation and reflection.
6. Tourism and Education: Stepwells attract tourists and researchers, contributing to the local economy and promoting education about traditional water management systems.
7. Environmental Conservation – In today's context, the revival and maintenance of stepwells can contribute to sustainable water management practices and the conservation of groundwater resources.